Cement
With four cement factories (Izmir, Kars, Edirne and Elazig) and an installed capacity of 5.4 million tons per year, Çimentaş is among the first international cement producers in Turkey. The company is listed on the Istanbul Stock Exchange.

The plants, strategically located to cover the entire domestic market, are:
Izmir (2.6 million tons capacity) on the Aegean Sea;
Edirne (1.3 million tons capacity) in the Marmara region, near Istanbul and on the border with Greece and Bulgaria;
Elazig (0.9 million tons capacity), acquired in September 2006 in Central Anatolia;
Kars (0.6 million tons capacity) in Eastern Anatolia.
Although production is mainly distributed in the domestic market, the plants location near the sea and on the border with other countries makes export feasible both to neighboring countries and into the Mediterranean.
Ready-mix concrete
The subsidiary Çimbeton, also listed on the Istanbul Stock Exchange since 1977, is the main ready-mix concrete production company in the Aegean region, with 16 concrete plants located mainly in the western part of Turkey.

Waste
Since 2009 Çimentaş, with the aim of contributing to the circular economy and increasing the Group's environmental footprint, invested in a business model based on sustainability: through its sub-holding Recydia started operations in residues treatment, to produce recyclable materials and alternative fuel to be used in the cement factories as a substitute of fossil fuel.
In the Aegean region, Sureko is the subsidiary focused on industrial facilities waste management, providing onsite service to customers, collection and treatment of industrial residues in Kula (Manisa) factory, where recyclable materials (PET, HDPE, PP, paper, glass, wood, metals) are selected and Solid Recovered Fuel (SRF) is produced.
The production of energy from renewable sources and the progressive replacement of fossil fuels with alternative fuels is one of the Group's strategic priorities.
Our assets
Grey cement production capacity
5,400,000 t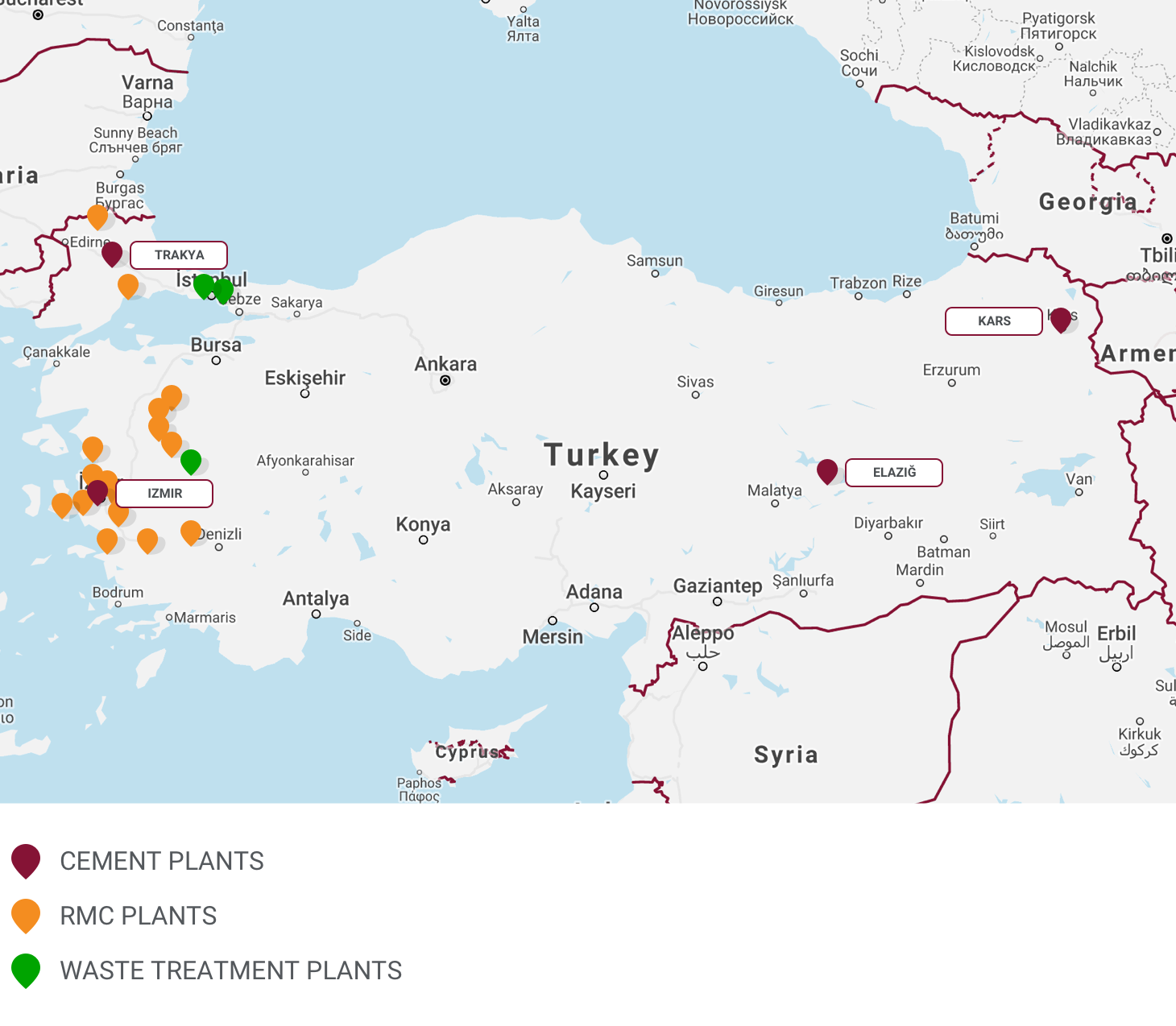 CIMENTAS
Çimentas Izmir Çimento
Fabrikasi Türk A.S.
Egemenlik Mahallesi Eski Kemalpaşa Caddesi No: 4B Işıkkkent Bornova
35070 Izmir
Turkey
Tel +90 (232) 472 10 50
http://www.cimentas.com.tr/en/
CIMBETON
Çimentas Izmir Çimento
Fabrikasi Türk A.S.
Egemenlik Neighborhood Eski Kemalpaşa Street No: 5 Işıkkent Bornova Izmir
Turkey
Tel +90 (232) 472 10 50
http://www.cimbeton.com.tr/en/
CIMENTAS KARS
Merkez Bozkale Koyü Mevkii
36210 Kars
Turkey
Tel +90 (474) 242 62 30
CIMENTAS ELAZIG
Kızılay Mah. Kazım
Karabekir Cad. 12
23200 Elaziğ
Turkey
Tel: +90 424 224 39 21
CIMENTAS TRAKYA
Sinan Köy Mevkii
22970 Lalapaşa - Edirne
Turkey
Tel: +90 284 323 11 04
Recydia
Atık Yönetimi
Yenilenebilir Enerji
Üretimi Nakliye ve Lojistik
Hizmetleri Sanayi ve
Ticaret Anonim Şirketi
Egemenlik Neighbourhood
Eski Kemalpaşa
Street No: 5 Işıkkent Bornova İzmir
Turkey
http://www.recydia.com/en/
Süreko
Atık Yönetimi Nakliye
Lojistik Elektrik Üretin
Anonim Şirketi Egemenlik Neighbourhood
Eski Kemalpaşa Street No: 5
Işıkkent Bornova İzmir
Turkey
http://www.sureko.com/en/